Emily Weiss (Ruby in The Brad and Janet Show) is the mother of Janet. She is a character in Shock Treatment.
Biography
Shock Treatment
On "Marriage Maze", Bert Schnick has Emily and Harry Weiss, as contestants on the show. Bert promises a prize if they can offer a psychological assessment of Brad. Emily and Harry decide that Brad is regressing back to a mental stage of childhood, so Bert awards them a new home on DTV's "Happy Homes".
Janet visits Emily and Harry and laments Brad's lack of assertiveness, wishing he would realize that she still loves him ("In My Own Way"). Emily watches as Harry chastises Janet for marrying Brad, calling him an orphan, rather than boys with more stable family backgrounds. After Janet says the boy she was going to marry turned out to be gay, Emily watches as Harry decides to proclaim the virtues of traditional masculinity ("Thank God I'm A Man").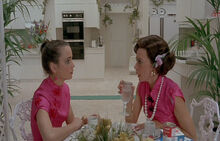 While visiting Brad in the Terminal Ward, Emily and Harry question Cosmo and Nation McKinley and the rest of the Dentonvale staff on how they can help his sickness. The McKinleys demonstrate their expert abilities by "curing" Bert Schnick's blindness with shock treatment ("Shock Treatment").
As the premier of "Faith Factory" comes closer, Emily and Harry, along witg the Dentonvale staff, Ralph Hapschatt, and Macy Struthers, embrace their new TV roles by dressing up in white doctor and nurse uniforms and singing about their new images ("Look What I Did to My Id").
During the "Faith Factory" premier, Emily, along with Harry, watches as Brad, Betty, and Judge Wright crash through the set wall disrupting the entire premier, Brad confronting his brother Farley ("Duel Duet"), and Janet snapping back to her own reality and getting shunned from the stage and fleeing the studio ("Anyhow, Anyhow").
Music
Emily Weiss has solos in:
Gallery
Film Stills
To read more about Shock Treatment: