Ricky, also known as Rest Home Ricky, is an orderly on DTV's "Dentonvale". He is a minor character from the never-made The Brad and Janet Show script and Shock Treatment. He is portrayed by actor Rik Mayall.
Biography
The Brad and Janet Show
Ricky has the same plot as in Shock Treatment. The only difference is that at the end he goes with Brad, Janet, Oliver, Betty and Oscar Drill and the Bits instead of staying with Farley Flavors.
Shock Treatment
On "Marriage Maze", Ricky comes on stage with a wheel chair to take Brad Majors to "Dentonvale". At "Dentonvale", Ricky secretly gives Brad a drug that makes him pass out then under Cosmo and Nation McKinley orders, he takes him to the Terminal Ward.
He along with the McKinleys, and Ansalong, help Farley Flavors plan of recruitining Janet Majors by singing a song with a televised Farley ("Farley's Song"). In reality, Farley is obsessed with Janet and plans on kicking Brad out of the picture so he can seduce her during the "Faith Factory" premier.
While visiting Brad in the Terminal Ward, Janet's parents question the Dentonvale staff, including Ricky, on how they can help him. The staff of Dentonvale demonstrate their abilities by "curing" the blindness of Bert Schnick ("Shock Treatment").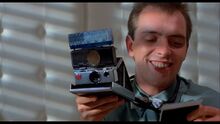 As the premier of "Faith Factory" comes closer, Ricky, Ansalong, the McKinleys, Ralph Hapschatt, Macy Struthers, and the Weisses embrace their new TV roles by dressing up in white doctor and nurse uniforms and singing about their new images ("Look What I Did To My Id").
At the opening show of "Faith Factory" he and the rest of the Dentonvale staff watch Brad, Betty Hapschatt, and Oliver Wright crash through the set wall disrupting the entire premier. After they flee the studio ("Anyhow Anyhow"), Ricky the rest of Dentonvale, and Farley celebrate after committing the entire DTV studio audience to the Terminal Ward at "Dentonvale" as part of the psychological program of "Faith Factory" ("Denton U.S.A. reprise").
Music
Ricky has solos in:
Ricky sings as company (chorus) in:
Gallery
Film Stills
To read more about Shock Treatment:
Community content is available under
CC-BY-SA
unless otherwise noted.