Riff Raff is a character from the musical productions of The Rocky Horror Show since 1973, from the 1975 movie, from the 2015 tribute production celebrating 40 years, from the 2016 reimagining movie, and from the never made sequels Rocky Horror Shows His Heels, Revenge of the Old Queen, and Rocky Horror: The Second Coming.
He was portrayed by Richard O'Brien in the 1973 Original London Production, in the 1975 Broadway Production, and in the 1975 film adaptation; by Bruce "Zahariades" Scott in the 1974 Roxy Production, by Raúl Esparza in the 2001 Broadway Revival, by Kristian Lavercombe in the 2015 live tribute production, and by Reeve Carney in the 2016 reimagining movie.
Biography
Riff Raff is a Transylvanian who came to Earth with his sister Magenta and his master, Frank-N-Furter. He greets Brad and Janet when they enter the castle and acts as a servant to Frank throughout the film. He has an unusually intimate relationship with his sister and a jealousy complex with Frank. Near the end of the film, he becomes the new commander of the castle, taking prisoner of Frank.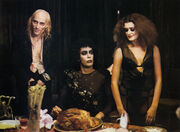 The character is portrayed by Richard O'Brien in the film. He is a parody of Frankenstein's servant, Fritz/Igor.
Music
Riff Raff has solos in:
Riff Raff sings as company (chorus) in:
Trivia
O'Brien would go on to host Channel 4 gameshow The Crystal Maze from 1990-3. His successor, Ed Tudor-Pole, who took over from 1994-5, had coincidentally played Riff Raff in the 1990 London revival of The Rocky Horror Show.
He was portayed by Richard O'Brien, the man who created the whole musical.
O'Brien is also notable for playing Fico in 1980's Flash Gordon, and also presenting the first four seasons of cult classic 1990's game show The Crystal Maze. Ironically, his Crystal Maze successor, Edward Tudor-Pole (from the rock band Tenpole Tudor), also appears in this film.
He is not really evil, as he apologized to Dr. Scott after his nephew died and allowed him, Brad and Janet to leave before their house disappears.
Gallery
📷 In the Rocky Horror Wiki we use galleries to order photos and video. You can visit the gallery of Riff Raff to see related files.
If you're looking for more characters, visit:

If you're looking for more, visit:
Categories: Productions, Characters, Soundtracks, Songs, Actors and Files.

👾 Join the Discord Server right here.
👥 Join the Facebook group right here.
📢 Join the discussion right here.
📜 Be sure to read the Rocky Horror Wiki Guideline.